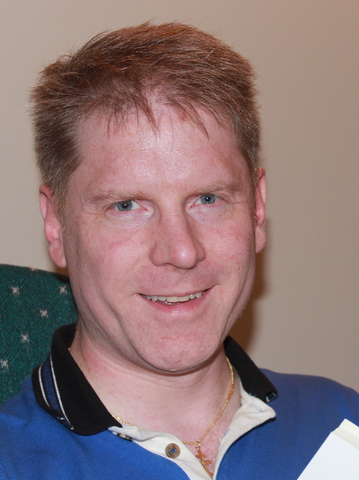 eje <!- -->at ewanco.com
Eric James Ewanco
Welcome to my Web Page!

I am an embedded software development engineer, available for hire. My skills include C, C++, assembly language, bash, and Perl. I have also created turn-key web sites for clients. I have worked at ONvocal as a temporary contractor, at GENBAND as a Linux (OpenSUSE) platform engineer and network processor engineer, at Avici Systems on their SONET device drivers, for Gotham Networks, a networking startup formed in August 1999, working on drivers for the fast path of a chassis-based multiservice layer 2/3 carrier-class data communications switch, in the remote access group at 3Com in their Network Systems unit occupied with developing an ATM interface for the Total Control Hub, at Xyplex Networks in Littleton, Massachusetts, in the Switching and Media Group, and at Digital in the Networks Products Group. At Xyplex, I worked on revisions for the 610 Ethernet Switch and on an ATM "fat pipe" interface. At Digital I worked on the VNswitch 900 and other products in the DEChub 900 Family, including the DECbrouter 90 and the DECbridge 90.



Vital Stats

Country: United States of America
Home Phone:

508-845-5008 (Shrewsbury, Massachusetts)



Personal Facts

Being quite the logophile, I take delight in logodaedaly, but regrettably too often I am foiled by my own lethologica. If you find yourself in my vicinity, you may overhear my monological habit of hypophora, and if you converse with me, you may take note of my occasional habit of hypermimia. But please, do not be alarmed. ;-) (Do you find yourself utterly metagrobolized? A little knowledge is a dangerous thing, huh?)

I am originally from Fort Worth, Texas, where I graduated from the High School for Engineering Professions (at Dunbar). I graduated from Carnegie Mellon with a degree in Computer Engineering. While I was there, I made time to do things with my brothers in the Alpha Phi Omega service fraternity. On graduation I moved to metro Boston.

I have a number of hobbies, including Linux hacking (Linux rules! Linux rocks!), theatre and drama, hiking, and, of course, surfing the Web in search of more favorite sites!

The Prophet has spoken:
"The frozen north will hatch a flightless bird,
who will spread his wings and dominate the earth
And cause an empire by the sea to fall
To the astonishment, and delight of all."


------BEGIN GEEK CODE BLOCK-----
Version: 3.1
GCS/E d+(-) s-:- a- C++++$ ULS++++ P+ L++>++++ E++ W++ N++(+++) !o !K w O> M--
V- PS--- PE+ Y-P GP+ t- !5 X? R- tv--- b++ DI++++ !D G e++ h+ r? y-
------END GEEK CODE BLOCK------


Last updated 26 October 2015 by

eje at ewanco.com